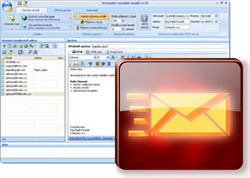 Do you need to send offer for the goods, announcement about updates or changes?
Do you need to send message to several e-mail addresses?
Do you want so as every recipient not to see addresses of other recipients?
Don´t you want to rely on only insertion of recipients list in copy (hidden)?
...read more »

---
Program SendMails is able to do still jolly sight more!
...read more »

Free registration HOME version »
---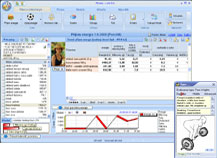 FitLife is a software program which enables you to monitor every part of your eating, sport and strength training program easily. ...read more »

---
The "energy intake" module will help you to change your weight. It contains a database of several thousands of articles of food , plus nutrition facts. It will enable you to watch your energy intake, to have a control over the amount of fats,carbohydrates, protains and vitamins in your meals. You will know exactly what, how much and when you eat and in this way it will contribute to a faster and more effective change of your weight. ...read more »
---
The control and planing of your aerobic activity, training and other of your sport activities is enabled by the "energy expenditure" module. It will help you to observe your progress and monitor your achievements. No matter how great your goals are, FitLinie will help you to reach them. ...read more »
---
The "fitness" module will aid you in scheduling and observing your exercising and strength training plan. It doesn´t matter whether you strenghten for general health or a better performance in another sport or if you are interested in body-building – the FitLinie Fitness module will help you to reach your goals effectively. ...read more »
---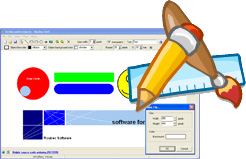 Active Paint Application is a simple (object) drawing program.
Drawing Tools:
- Line
- Circle/Ellipse
- Rectangle
- Rounded Rectangle
- Text tool
- Image (bmp)

---
You can select any object on your drawing with "Edit drawing" tool, and (like in Corel DRAW! or in Compact Draw) you will be able to resize it, move it, delete it, change the outline or the fill color, change the line width, or text's contents, send it to back, bring it to front, set transparent, stretch of include image etc..
You can change also the size and the color of background (paper).
You can save your drawing in two formats: *.APO - Active Paint object file or in *.BMP.
---
Download Software



Search Engine Optimization and SEO Tools

SZIGG.com - Classified Web Links