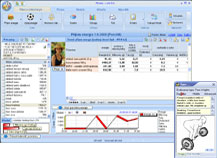 FitLife is a software program which enables you to monitor every part of your eating, sport and strength training program easily.


---
Energy intake - One of the main modules of the program
To eat less, to eat well, to lose weight
Healthy eating – healthy living.....

What it offers :
No more guesses – you don´t have to guess how many Calories you have eaten. You will always know when and how you can eat more.
Improving your eating habits – by enabling you to observe continuosly whether you follow your eating plan
It will help you to lose weight in a healthy way – by showing you when you eat too little.
It contributes to a healthy way of eating – by showing you which meals are able to satiate you and which are not.
It destroys myths – by showing you which "wholesome" food may not be as healthy as you think or as the producer claims on the packing.
It helps you in special diet regimes – by helping you to put together a meal plan according to your special needs or state of health.
It will strenghten your resolve – by showing you your achievements.

Features :
A daily food graph will display your total intake to the level of nutrients and Cal.
A fast look-up of foodstuffs, recipes.
An easy way of adding your own meals or changing one of the several thousands of items of the food database.
An easy way of adding new recipes.
An immediate control over the food intake.
An easy way of comparing the real food intake with the planned intake by having a look at one of the graphs.
An easy and comprehensible comparison of the intake during a certain period of time in a graph or in print.
An easy and comprehensible management of the food database.

You see exactly what you eat
The "Energy intake" module enables you to watch what you eat and to analyse the nutritional value of your meals easily.
It offers an instant display of the composition of your meals as for fats, sugars,proteins, vitamins etc.
If you cannot find some food in the program you may easily add it into the database.

It's easily adaptable to your life style
Have you got a fixed eating regime three times a day? Or do you eat continuously through the whole day? The FitLinie program may be adjusted to it.
If you plan to eat only a limited amount of fats,carbohydrates or proteins during the day, the FitLine program will compare the target values with the reality continuously.

It is also easy to plan your food intake. In the plan you may see what you are having for lunch for example tomorrow. If you want you may easily add the items from the plan into the "shopping list" and print it. This facilitates the planning of shopping.

Surveys, outputs, graphs and charts will help you to observe the results of your eating habits and give you a feedback that is necessary for changing your habits and improving your health.


---
Energy expenditure - Planning of sport activities
Adjust the training plan to your needs
Exercising, sport – healthy and longer life

The "Energy Expenditure" module will help you to control and plan your aerobic activities, trainings and sports.
It will help you to watch your progress and monitor your achievements. No matter how high your goals are, Fitlinie will help you to reach them.

Survey :
The FitLinie program provides an easy tool for creating, observing and editing of plans for exercising, doing sports, stretching, stamina building and also for your everyday activities. The program includes a great database of these activities which may be freely modified and complemented.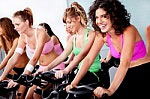 Results :
You may easily see various kinds of results for every performed activity. For example kJ, length,time,difficulty level, points,rounds and so on. You may make additions to these results and adjust them to your needs.

Easy planning :
The "energy expenditure" module enables you to plan your daily sport activity by just one doubleclick of the mouse.
In the diary you may then see what kind of activities you´ve planned for a particular day.


Outputs :
When making your training plan or recording your sport activities you may immediately watch the graphic presentation of important values.
All results of sport activities during a certain period of time can be easily presented in a graph or printed.


---
Fitness - Strength training
FitLinie will adjust the training plan to your needs and physical efficiency no matter if you are a beginner or a professional

The Fitness module is intended for preparing, maintaining and printing of your training plan based on your present training, health and level of efficiency.

It doesn´t matter whether you strenghten for general health or a better performance in another sport or if you are interested in body-building – FitLinie Fitness module will help you to reach your goals effectively.




Flexible training plans, database of workouts and groups of muscles
Do you work the whole of your body?Are you more concerned with the upper or lower part of your body? Or do you develop only a specific group of muscles? Maybe you combine the muscles you want to develop into your own muscle groups. The Fitness module will adjust your strength training to any situation according to your wishes, needs and efficiency.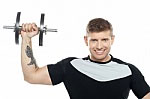 The FitLinie program may also create trainining plans automatically for a specific period of time with regard to a selected group of muscles and your performance.

All of the results of the trainining activities during a specific period of time may be easily displayed in a graph or printed.


---
Management of users - exercisers
The FitLinie program – multi user system for a wide use.

More than just a name :
Apart from the basic information (name,age,etc.) the FitLinie program will also ask you to enter other important data concerning your expected weight loss and the ways of achieving it (sport,diet). On their basis the intake and expenditure plan will be made for you.



Objectives :
Your objective doesn´t need to be expressed only by your weight but also by the percentage of body fat, the girth of your waist, buttocks or individual muscle groups. All these values can be continuously inserted into the program and a comprehensible graphic presentation will provide their comparison with the objectives.




Data protected by a password :
If you wish, the access to FitLinie can be secured by a password. This ensures that the individual users´ sensitive data can´t be seen by others.

A personal diary :
A simple personal diary allows the user to enter new personal information every day.


---
Graphs, outputs
FitLinie provides you with visual displays based on your records.

Graphs :
The graphs reflect the results of your efforts . They include nutrition,aerobic training, sport, user´s information/goals.
You may easily change the style of a graph(column, line, area, dotted) or the type of the values displayed.



Surveys :
The surveys show your caloric consumption in a comprihensible way by comparing the energy intake (kJ) with the energy expenditure. In this way you may easily find out whether your energy intake is excessive or not. The energy abundance is also shown in kilograms(losing/putting on weight). It is also possible to compare the percentual representation of fats,carbohydrates and protains in your diet with the preset values.


---
Download Software



Search Engine Optimization and SEO Tools

SZIGG.com - Classified Web Links